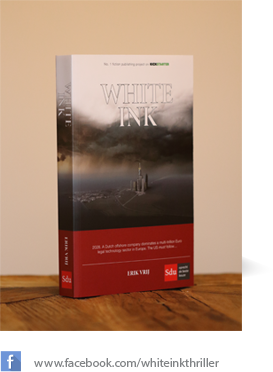 White Ink
WILL EUROPE'S NO 1 LEGAL IT FIRM CONQUER THE US – IN SPITE OF ITS BOORISH BILLIONNAIRE BOSS?
March 2028. The largest financial crisis ever has yielded an unexpected result: the mandatory registration of all rights and obligations of every European citizen, company, institution and government, from contracts to criminal records, bank balances and welfare benefits. A new legal technology sector has emerged: rights management. The sector is dominated by MRM, a company founded by the boorish Dutch RM billionaire Henk Vis, operating from tax free zones in Europe and Dubai.
When the US President announces her plan to introduce a similar registration system in 2029, the leading RM companies start sharpening their knives as they prepare to conquer the giant US market. An acquisition in Bermuda may make MRM the world market leader – or bankrupt the company if it fails. In the week before the acquisition, culture clashes and feuds in the management team threaten to hurt Henk where it hurts him most. His American dream hangs in the balance, in the hands of an attractive Bermudian lawyer.
White Ink is a story about the Big Brother world after the financial crisis, business dilemmas, culture clashes, dependence on IT and more.