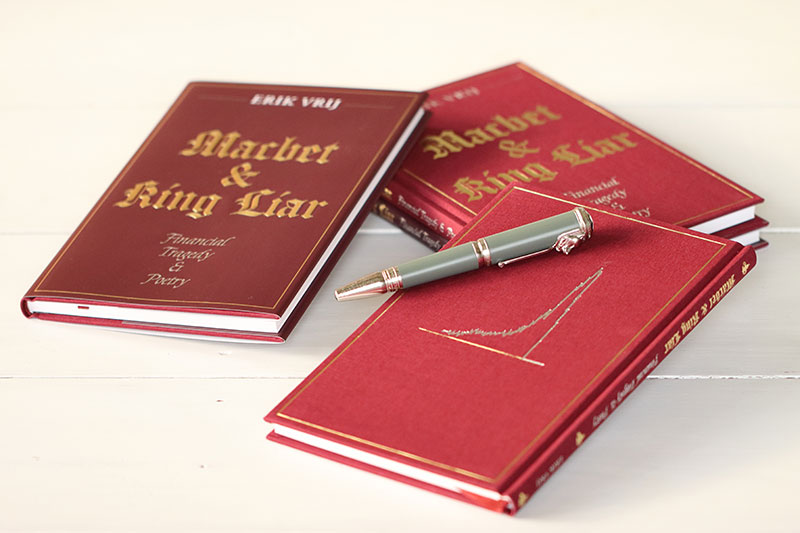 Macbet & King Liar – financial tragedy & poetry
A unique read and gift for anyone in finance…
THE VILLAINS OF THE WORLD'S BIGGEST FINANCIAL TRAGEDIES…
Madoff, Enron, Arthur Andersen, Goldman Sachs, Lehman Brothers, RBS CEO Fred 'the Shred' Goodwin, Greensill
… COME TOGETHER ON A PRIVATE OFFSHORE ISLAND …
… AS SHAKESPEARE'S FAMOUS CHARACTERS …
King Liar, Enroneo, King Arthur, Macbet, Floathello, Hamfred 'the Shred', the Merchant
Banker of Bundaberg
… TO ARRANGE THE ULTIMATE FINANCIAL TRAGEDY…
… FOLLOWED BY SOME 25 OF THE BEST KNOWN SHORT POEMS …
… rewritten into a financial setting …
The first "Financial Tragedy" part of the book consists of some 15 "Acts" having titles resembling those of Shakespeare's famous tragedies or characters. They are based on real persons, companies, events and financial structures that have caused or played a role in some of the best known actual financial tragedies and crises. The key actors ("Dramatis Personae") have been inspired by Bernard Madoff ("King Liar"), Enron ("Enroneo"), CEO Fred Goodwin van RBS (Hamfred 'the Shred'), Lex Greensill ("The Merchant Banker of Bundaberg"), short seller Fabrice Tourre of Goldman Sachs ("Macbet") and his brilliant and shrewd daughter Lady Juliet Macbet. They come together on a sunny offshore island to structure the ultimate collapse of Enroneo and to become exceptionally rich at the expense of ignorant investors.
The Shakespearian nature is otherwise expressed by old English language, font and a large number of quotes by Shakespeare that have been amended to fit in the otherwise modern day thriller.
The second "Poetry" part of the book consists of some 25 famous (love) poems, of which the titles and contents have been transformed into a financial setting.
Look into the book here: Macbet_King_Liar PDF