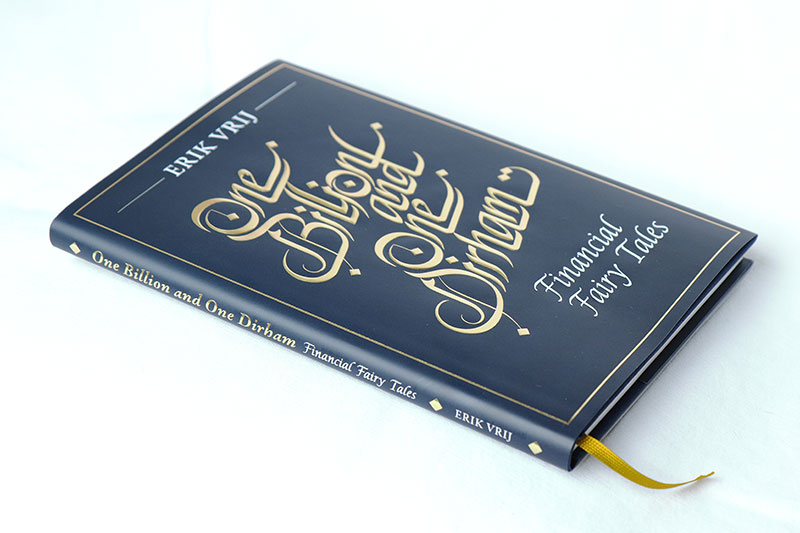 One Billion and One Dirham
An original and fun gift for anyone in finance: the world's famous fairy tales… turned into a financial setting.
This collection of some 25 short fairy tales is mostly based on the narrative of the world's famous fairy tales: Aladdin and the Magic Lamp, Ali Baba and the Forty Thieves, Sinbad the Sailor, Snow White and the Seven Dwarfs, Hansel and Gretel, Baron Münchhausen and many more.
FAIRY TALES COVERED
Al Alim Bank and the Magic App

Black Monday and the Seven Crises

The News Channel That Provided All Inside Information

Sin-Bad the Bond Salesman

Gullible's Investments

Little Red Account Balance (and the Big Bad Wolf of Wall Street)

The Borrowers That Always Repaid Their Loans

Mario and Christine

Cinderasset

The Merger That Offered True Synergies

Reponzel

The Insurance Policy That Always Paid Out

Gordon Gekko and the Forty Tulip Investors

The Banker's New Repayment Structure

The Hedge That Covered Every Risk

Baron von Büllmarkt's Incredible Investments

The Curing Touch of Midas Bank

Beauty and the Banker

The Decent Stock Broker

The CEO and the Clerk

King Cash and the Magic Flying Banknote

Alistair in Euroland

The Country That Levied No Tax
Look into the book and read a few fairy tales here.
Printed in exquisite top quality hard cover with gold and silver foil on linen, covered by an embossed dust jacket.
Title and cover calligraphy art by Wissam Shawkat, 'The (Gulf) Region's most celebrated calligraphy artist' – VOGUE ARABIA.
Foreword by Ian Morley, Founder/Chairman of the Alternative Investment Management Association.
The book has been a number 1 crowdfunding project on Kickstarter.com, the world's largest crowdfunding platform. A full presentation with photos, videos and the story behind the publication as well as all most extensive updates on the project after its publication – including my book presentation – can be found on the campaign site: https://www.kickstarter.com/projects/erikvrij/one-billion-and-one-dirham-financial-fairy-tales
You will find updates and news on the below Facebook and LinkedIn sites.